Amazon SEO – the shortest path to success, Part 2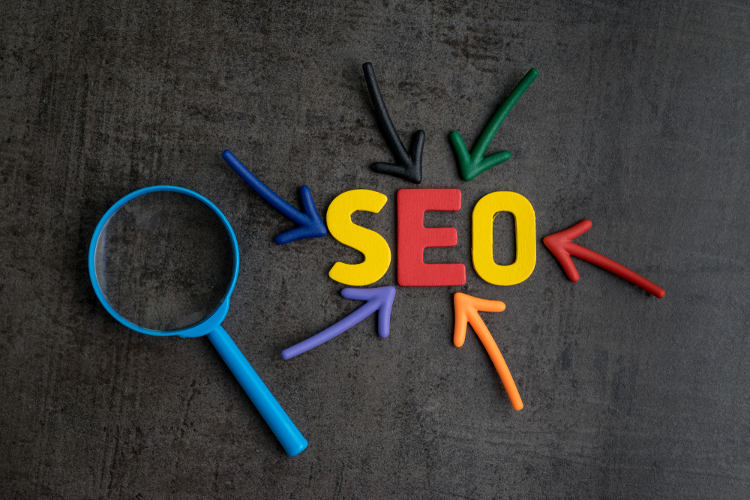 asdfHelium 10 is very popular and it covers many needs of Amazon VAs when it comes to listing optimization and competitive analysis. For example, Helium 10 makes sure you include every keyword in the title.

This way, you don't have to worry you might miss something. But there's another question: where do you get the keywords for the title (and all the descriptions)? And not just any keywords! You need really good keywords that:
Help customers figure out the most important product details.
Help you get into top search results.
Attract shoppers that convert well.
Product title
That's where you can use Quiddi and the CPC Strategy secret formula from their guide.
The secret formula:
[Brand Name] – [Product Type] – [Feature #1] – [Feature #2] – [Feature #3] - [Size, etc.]
So, it doesn't boil down to abstract keywords. CPC Strategy recommends that you include specific text: brand, type, features and technical details like size. That leaves us with product features – and that's where Quiddi is really smart. It extracts product features automatically and it also understands user sentiment toward each of the features. Thus, Quiddi turns features into benefits!
Some examples:
Features: OLED screen size, screen quality, battery life, Wi-Fi reliability etc.
Benefits: big vibrant screen, lasting battery, strong WiFi, etc.
Here's a real-life example how Quiddi gathers the features and user opinions: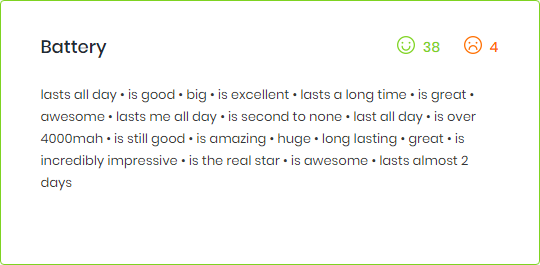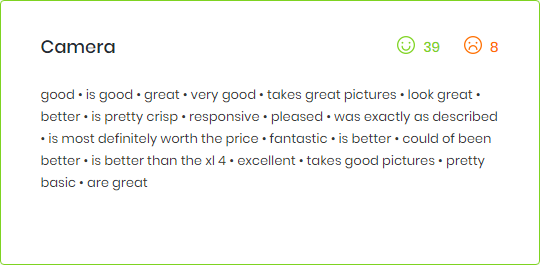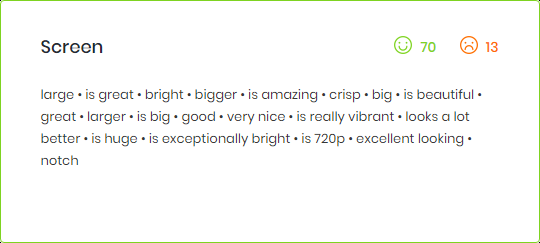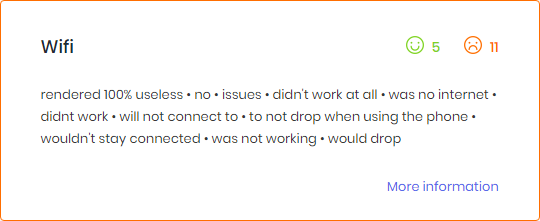 Based on the benefits and product specifications, you can design a good product title really quickly. And you don't have to read hundreds of reviews even if you are new to that product category!
Here's an example*:
Heihuicomm Pro - Smartphone - 6-inch FullHD screen - 5,000 MAh battery - Sony camera sensors - Strong Wi-Fi - 4/64 GB
Bullet description
Select five features that are most often mentioned in the reviews. For example, screen size, battery, cameras, WiFi, speakers. And tell your customer all about those:
6-inch thin-frame FullHD screen is gorgeous, and the phone fits even into your small pockets.
5,000 MAh Battery allows for a full day of active use and doesn't get heated.
Both cameras provide excellent quality, even late in the evening.
Hi-speed and robust Wi-Fi module.
Loud stereo speakers: great sound quality at any volume.
Long description
Tell a story: use Quiddi to find out the most typical use case and tell your buyers about it.
Also, you can select long phrases from positive reviews and make sentences of them. If your product has advantages over the competition, you can take negative reviews and highlight that your product is free from such problems. Use HTML formatting but do not include links or shipping terms.
Here's an example:
This phone is great for those who want to play all kinds of media and be sure that it won't drain the battery in the middle of the day. Also, if you want quality photos and videos, this phone is for you. The top-notch camera sensor from Sony will take amazing pictures even in the evening. It also is great at capturing fast motion, almost like an action camera.
The screen is an amazing 6-inch FullHD display with Gorilla Glass, and it doesn't fade in the sun. The colors are vivid and it automatically adjusts brightness, depending on the ambient lighting.
More features include NFC (use your phone as a payment card), 5G, 2 SIM cards and a dedicated memory card slot, stereo speakers, 3.5 phone jack, USB Type C charger. The Wi-Fi module has been designed to ensure strong connectivity even in noisy environments such as public hot spot locations. And it's not vendor-locked!
Backend keywords/tags
Common SEO recommendations apply to Amazon backend terms as well:
Consider alternate spellings.
Include related search phrases.
Think long tail: look for off-beat, niche queries.
Here Quiddi helps as well – you can often find useful insights for backend descriptions in user reviews.
Some real-life examples. These keywords provide an opportunity to rank high for niche search queries:
#smartphone vibrant screen
#smartphone strong wifi
#smartphone 3.5 jack
Final words
There are many tools for Amazon sellers that help create high performing product descriptions. New tools regularly appear and become popular.
You can combine tools, for example, Helium10 and Quiddi:
Helium10 or similar tools streamline the description creation process.
Quiddi analyzes user reviews and provides valuable insights that you can use for:
Titles
Bullet descriptions
Long descriptions
Backend: tags and keywords
* The Heihuicomm brand is here just for the sake of example, it doesn't really exist.